Vinyl Resin,LA,RC ,LP
The copolymer of Vinyl Chloride-Vinyl Acetates
Application:
LA and RC type resins are commonly used as PVC Leather surface modification agents to make the surface smooth and sticky resistant.
LP resin is used to produce high gloss paints and coatings.
RC Type can also be employed in PVC transparent sheets for pharmaceutical packaging.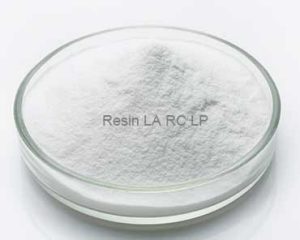 Vinyl Chloride-Vinyl Acetates Copolymer
Specification:
LA CK RC, LP
Item Specification

LA

CK

RC

LP

Measuring Method and Code

Appearance

White Powder

Visual

Adhesion Number ml/gK Value

178 83 57 59

80 83 58 59

88 9260 62

39 4240 42

GB/T 34011999 Calculated Based on Adhesion Number

Vinyl Acetates Content by Mass %

7 9

10 12

13 15

14 16

Q/320205AHAD06–2006

Volatile Contents Including Moisture

1.0

GB/T 2914–1999

Sieving Rate Pore Diameter 0.25mm

98

GB/T 2916–1999

Impurities Particles/ 100g sample

23

GB/T 9348–1999

Pile Density (g/ml)

0.60

GB/T 3402 Appendix A
Storage and packaging:
25 kg per bag; kraft paper bag or PP knitted bag lined with PE film
550 kg / big bag; Polypropylene knitted bag lined with polyethylene film
Vinyl resin LA and RC solutions are usually sold in powder form. Resin should be stored in its original unopened packaging in a dry place.
When stored at 24 (75 hours) and low humidity, the resin has a shelf life of approximately twenty-four months. Product discoloration may occur if stored at higher temperatures or under high humidity conditions.
Store in a dry place at room temperature, see MSDS and SGS report