A viscous milky white or nearly clear liquid is an acrylic emulsion. A lotion copolymerized with pure acrylate monomers is an acrylic emulsion. It is a remarkable lotion with small, uniform particles. It has exceptional water and weather resistance and is ideal for many paint compositions, especially high gloss and semi-gloss coatings. Acrylic emulsions are UV-stable polymers that can be used to create various coatings, from a variety of coatings, from ones that are extremely flexible and soft to very hard, scratch- and abrasion-resistant coatings for concrete or wood floors. Acrylic emulsions must comply with regulatory criteria without losing performance despite the wide range of applications.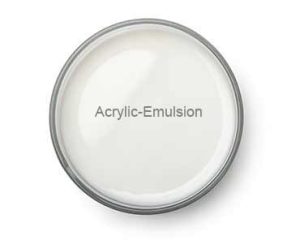 Properties:
Environmentally friendly, non-toxic, non-irritating, and safe for human use
A high gloss, a non-film-forming resin that has good adhesive resistance, outstanding gloss, and clarity.
Environmentally friendly, low-odor.
Product specifications:
| | | | | | |
| --- | --- | --- | --- | --- | --- |
| Type | Appearance | Solid content(%) | Viscosity(mPa·s) | PH | Application type |
| AEM®7013 | Milky white emulsion | 40±2 | 50-500 | 7.0-8.5 | One-component self-drying |
Applications:
Acrylic emulsions are created by mixing water and an acrylate polymer. To boost the properties of paints and cement, the acrylic emulsion is frequently used. These qualities include increased resistance to water, chemicals, UV, abrasion, algae, and fungal development. Acrylic Emulsion is also frequently used in metal coatings, wood finish paint, etc.