MC39 resin equivalent to DOW'S VMCC&VMCA /WACKER'S LL4320 /E15/45M resin
MC39 resin is the DOW VMCC&VMCA /WACKER LL4320 /E15/45M resin equivalent. MC39 Vinyl Resin Solution Vinyl resin is a carboxyl-functional terpolymer with a medium molecular weight composed of vinyl chloride, vinyl acetate, and melic acid. It is available as a powder. Aromatic diluents are well tolerated by the resin. It can be cross-linked with epoxy vinyl resin. It adheres well to vinyl, metals, concrete, and cellulosic substrates. Because of its low molecular weight, this resin produces low viscosity and high solids solutions. Common applications It is suitable for the use of a wide range of clear and pigmented coatings. Useful as a metal, wood, paper, film, foil, and fabric adhesive. Useful in high solids, thermosetting coatings that can be cured after coating with epoxy solution vinyl resin.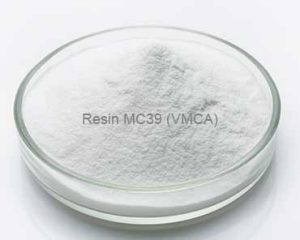 Carboxyl Type
Spec / Item

MC39

Measuring Method And Code

Appearance

White Powder

Visual

Adhesion Number ml/g

K Value

37-39

(36-37)

GB/T 34011999

Calculated Based on Adhesion Number

Vinyl Acetates Content By Mass %

17-18

Q/320205AHAD06

2006

Maleic Acid Content%

1.5-1.8

Q/320205AHAD01

2006

Volatile Contents Including Moisture

1.0

GB/T 2914-1999

Pile Density (g/ml)

0.60

GB/T 3402 Appendix A

Solubility

25%MEK: TOLUENE 1 1

Colorless, Transparent, No Non-soluble Particles

Visual
Recommendation for Resin Dissolving Procedure:
Start by mixing a weak solvent, such as ethyl acetate or toluene, in a mixing tank.
While stirring, slowly add fluoropolymer resins such as UMCH or UMOH to the above solvent.
Strong solvents, such as IEC or MIPC, should be added last.
If possible, keep the temperature at 60-70 degrees Celsius to speed up the dissolution process; otherwise it will take longer.
The resin concentration may vary depending on the client's formulation.
Features:
This terpolymer contains a carboxyl group, so it has good adhesion to aluminum foil. It also has good resistance to alkalis, alkalis, brine, salt fog, oil esters and alcohols because it contains PVC.
Packing and Storage:
25 Kg /Bag; Craft Paper Bag or PP Knitted Bag lined with plastic film.
When kept at 24(75H) and low humidity, the resin has a shelf life of about twenty-fourfour months. Some product discoloration may occur after prolonged storage at higher temperatures or in humid conditions.
Kept at room temperature and dry, Concerning safety, see MSDS and SGS Report.