UMOH resin is a hydroxyl functional partially hydrolyzed vinyl chloride and vinyl acetate resin with a high molecular weight. It is available in powder form. It can also crosslink with amino resins and polyisocyanates, and it is compatible with a variety of resins, including alkyds and acrylics.
A high molecular weight partially hydrolyzed vinyl chloride/vinyl acetate resin with a composition of approximately 90% vinyl chloride, 4% vinyl acetate, and 2.3% hydroxyl. To produce 20% solids solutions, VAGH Vinyl Resin can be diluted in relatively strong solvent/diluent combinations such as 50% ketone/50% aromatic hydrocarbon.VAGH can be used in a variety of coatings, including industrial and marine finishes, wood finishes, papier-mâché finishes, metal decorative and container finishes, and as a binder in magnetic tape.
We also supply resins such as VMCH, UMCH, and MC39.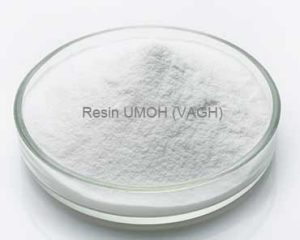 Application of UMOH Resin:
UMOH, VAGH Resin, is primarily used in polyester gravure inks and anti-steam, boiling inks. It can be used in high-quality wood and metal paints in conjunction with PU and Alkyd resin. Magnetic tape flexible packaging and binder; General metal and container coatings; Wood finishes and paper coatings; Industrial Maintenance; Marine and maintenance coatings
Features:
1. Vinyl Resin for Film
Because UMOH contains has a hydroxyl function group, it can cross-link with PU to form a bright, hard, and tough film with good scratch resistance.
2. Vinyl Resin for Ink Printing
It is also a good media for ink and coating pigment because it contains VC and VAC. UMOH and VAGH resin are widely exported to other countries for use in gravure inks. Compatible with EVA or PU resin for producing high-quality polyester inks.
Hydroxyl Type Vinyl Chloride-Vinyl Acetates Terpolymer
Measuring Method and Code

White, Slight Yellow Powder

Calculated Based on Adhesion Number

Vinyl Acetates Content by mass %

Hydroxyl, Acrylic Acid content%

Volatile Contents including moisture

Pale Yellow Color, Transparent, No non-soluble Particles

Colorless, Transparent, No non-soluble Particles
Recommendation for Resin Dissolving Procedure:
Begin by agitating a weak solvent, such as ethyl acetate or toluene, in the blending tank.
With agitation, slowly add terpolymer resins such as UMCH or UMOH to the above solvents.
Strong solvents, such as MEK or MIPK, should be added last.
If possible, keep the temperature at 60-70 degrees Celsius to aid the dissolving process; otherwise, it will take longer.
The concentration of resin may vary depending on the client's formulation.
Packaging and storage: 25 kg per bag; craft paper bag or PP knitted bag lined with plastic film.
Safety and handling:
UMOH solution vinyl resin is typically supplied as a powder in multi-ply paper bags. It can also be purchased in bulk. The resin should be stored in its original closed packaging in a dry place. When stored at 24(75H) and low humidity, this resin has a shelf life of about twelve months. Product discoloration may occur if stored at higher temperatures or in high humidity conditions.