UMCH resin equivalent to DOW'S VMCH resin/WACKER'S H15/45M resin
UMCH Solution Vinyl Resin– Vinyl Chloride Vinyl Acetate resin
Vinyl Resin-Vinyl Chloride UMCH Solution Resin of vinyl acetate
UMCH resins, also known as VMCH resins, are carboxyl-functional terpolymers composed of vinyl chloride, vinyl acetate, and maleic acid. It is available as a powder.
Dow UCAR VMCH resin can be replaced with our UMCH resin.
UMCH VMCH resin adheres well to vinyl, metals, concrete, and cellulosic substrates. On metal coil and sheet, UMCH vinyl resin produces highly flexible, post-formable coatings. We also offer UMOH resin and UM50 resin…"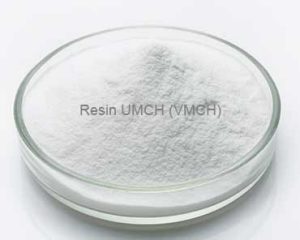 Application :
Usual application It is used in a wide range of clear and pigmented coatings for paper, film, foil, and fabric.
It can be used to make heat-sealable packaging coatings and adhesives.
It is also suitable for use in metal coatings and marine maintenance coatings.
Metal food can coatings
UMCH resins 52,55 are primarily used as primers and inks for metalized card papers; UMCH resins 55,58 are used in heat melt coats for medical packaging aluminum foil coatings, galvanized tin coating; spraying paint for plastic cases of electrics, and metal anti-corrosive coating such as marine paint, among other applications.
On metal coil and sheet, VMCH resin creates highly flexible post-formable coatings. Furthermore, it adheres to vinyl, metals, concrete, and cellulosic substrates. And VMCH Resin has no taste or odor.
VMCH Resin Application:
Adhesives
Flexible Packaging
Industrial Coatings
Inks and Overlacquers
Marine and Maintenance
Vinyl Chloride Vinyl Acetates Resin
Spec/ Item

UMCH resin

Measuring Method and Code

52

55

58

Appearance

White Powder

Visual

Adhesion Number ml/g

K Value

50-52

54-56

57-59

GB/T 34011999

Calculated Based on Adhesion Number

Vinyl Acetates Content by mass %

13-15

13-15

13-15

Q/320205AHAD06

2006

Maleic Acid Content%

1.8-2.1

1.8-2.1

1.8-2.1

Q/320205AHAD01

2006

Volatile Contents including moisture

1.0

GB/T 2914-1999

Pile Density (g/ml)

0.60

GB/T 3402 Appendix A

Solubility

25%MEK: TOLUENE 1 1

Colorless, Transparent, No non-soluble Particles

Visual
Certificate Authority:
Our UMCH resin meets the requirements of the GB4803 Code, is in compliance with the sanitary standards of polyvinyl chloride used in food packaging, PRC, and has obtained the Certificate of Sanitation from the provincial authority as well as the FDA Certificate.
SGS testing report No. SGS testing report No. SGS testing report No. SGS testing report No. SGS testing report No. SGS testing report No. EC401460601, as well as reference No. SZECO060309445RC also meets FDA requirements for an indirect food additive (21 CFR 175.300 (3)(b)(XV) 21 CFR 176.180 21 CFR 177.1210) and has received an FDA Certificate.
Features:
This terpolymer contains a carboxyl group, so it has good adhesion to aluminum foil. It also has good resistance to alkali, base, brine, salty mist, and oil ester and alcohols because it contains PVC.
Features:
This terpolymer contains carboxyl group, therefore, it features good adhesions to aluminum foil, also because it contains PVC so, also has good resistance to alkali, base, brine, salty mist, also has good resistance to oil ester and alcohols.
Packing and Storage:
25 Kg /Bag; Craft Paper Bag or PP Knitted Bag lined with plastic film.
The shelf life of UMCH resin is approximately twenty-four months when stored at 24 (75 hours) and low humidity. Storage at higher temperatures or high humidity conditions may result in some discolouration of the product.
Recommendations for resin dissolution procedure:
First, add a weak solvent such as ethyl acetate or toluene to the mixing container while stirring.
Slowly add a terpolymer resin such as UMCH or UMOH to the above solvents while stirring.
Apply strong solvents last, such as MEK or MAPK
If possible, heat and maintain the temperature at 60-70 degrees Celsius, which will help the dissolution process, otherwise it will take longer.
Resin concentration may vary depending on the client's formulation.
Recommendation for Resin Dissolving Procedure:
Add weak solvent such as ethyl acetate or toluene into the blending tank first with agitation.
Slowly put terpolymer resin such as UMCH or UMOH into the above solvents with agitation.
Put strong solvents last, such as MEK or MIPK
If possible, heating and keeping temperature at 60-70 degree C, which will help the dissolving process, otherwise, takes longer time.Resin concentration may vary with client's formulation